Vikey is a company that can assure you with many useful and effective tools for your properties, whether is an apartment, an accommodation such as an Airbnb or guest house, or any other properties. The company provides devices such as noise detectors, temperature and humidity controllers, and many others. However, keyless door looks, and automatic smart locks are excellence of service, not only for their high quality, but also for the many features that they come with. 
Keys, in fact, are becoming more and more obsolete, also because of the many difficulties that can arise with them, such as losing them and, consequently, losing your privacy and security, which is unacceptable. Luckily, technology has found many other ways to provide secure locks that now don't require keys and can allow you to detect and control them, even when you are far away from home: all it takes is a simple tap on your phone.
Keyless door locks | An innovation for your bnb
Keyless door locks will completely change the way that you approach the security and the main management of your house and in a moment, you will already feel much more secure. In this way, you will also provide a safer option for your Airbnb, hostel, or any kind of property that you own. In fact, this step will be crucial to simplify the process of check-ins: in this way, you will eliminate the troublesome and impractical key handover, but also you will be able to manage your accommodations and properties remotely, so you will always know what is happening and how is your property.
The Smart locks and electronic keyless door locks are very easy to install and utilize: in fact, it will be only a matter of minutes, contrary to the troublesome cylindric keyhole that is used everywhere in Europe, so you will be able to have your keyless door lock as soon as you need it, without any additional work or time. Another incredible news is that, in order to use the keyless door locks, there is also no requirement or permit to be asked from your condominium, since it won't require any damage or additional change to your door. Therefore, it will be a breeze to install it and manage it, whenever and however you want.
Why choose Vikey's keyless door locks?
The list of benefits and perks that you will get thanks to a new keyless door lock, but in particular with a new Vikey one, are infinite. With our smart locks, you will be finding a safe and beneficial device that will help you to unlock any satisfaction. The first and most important perk is how easy it is to use, since it only requires one click on the opening button or a simple tap on your smartphone, depending on the kind of smart locks that you will choose. Thanks to our Vikey4 devices, you will make your accommodation's internal intercom and electronic locks completely smart, so you will have complete control over your property, also on the main entrance and on-street door, by simply looking at our app on your smartphone.
These keyless doors will also be much safer than your ordinary and antiquate normal locks, since with a smart lock you can lock your door multiple times, by utilizing your personal code, that you can decide on your own. At any time, you can give the chosen locking method information to your guests or staff, so it will be easier to enter and go away without any single worry. However, if you are still unaware or dubious about any kind of emergency that might arise, do not worry because you will still get a key that you could use, whenever it may break, like a usual door lock.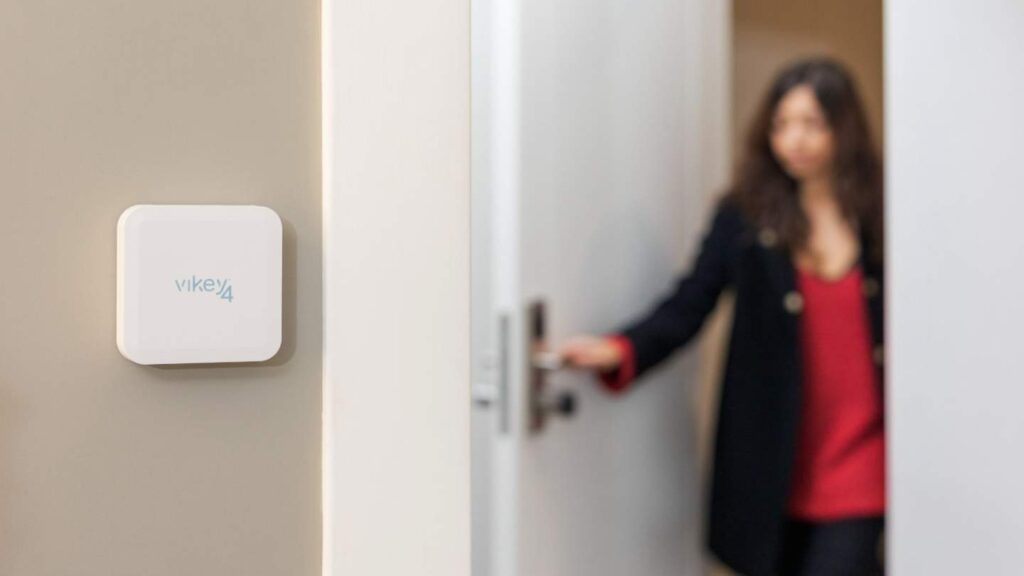 Another wonderful feature that you will unlock, thanks to our keyless door locks for rental properties and vacation rentals, is the ability to check the history of openings and closings of the door, so you will always be aware of anyone that will come at any time in the accommodation, giving you an extra amount of security. In fact, by uploading your app on your phone, you will be able to check all the entrance details, with dates and hours, so you won't ever be afraid of any single issue or break ins.
Nowadays, keyless door locks are not only a luxury that will definitely upgrade your accommodation but also is a prerogative that you should keep in mind, in order to keep up with the newest technology.