Accommodation and vacations industry is, without a doubt, a rising and evolving business. Its expansion is putting more and more emphasis on the innovation of its services and products, with the goal of improving the traveller experience and optimizing the resources of accommodation managers and owners. It is for this reason that:
more and more hospitality facilities are turning to smart solutions such as locks with electronic code.
In this article you will learn how an electronic lock (with or without a code) works, the importance of combining a digital lock with a fully autonomous self check-in system, and what benefits Vikey provides with its Self Check-In plans for hospitality facilities including all the necessary hardware and software for the total automation of access to your Hotel or B&b.
What is an electronic lock and how does it work?
An electronic lock (Vikey Smart Lock or Handle) is a device that is installed on the door of your room or apartment, and automates the entry process for travelers, significantly streamlining check-in procedures when your guests arrive. Smart code locks work through a one-time code that is generated and uniquely associated with each reservation, maintaining its validity during your guest's stay. In fact, the main advantage of Vikey's locks over classic code locks on the market is that Vikey also allows remote opening via app for the host, via web app for the guest, and that the code changes automatically with each reservation.
After booking, the guest will receive a link, that is Vikey's web app, where the buttons to open the door and the code the guest must enter on the numeric keypad to unlock the interior door will appear. Sending a numeric code to be typed on the smart lock keypad or using a physical digital key (in the form of the classic magnetic card) remain possible options but only secondary to opening with an app, much more immediate and intuitive.
On the host side, it will always be possible to open the door or gate remotely, through the host app.
To open both the building's door and any gates, you need another device that functions as a central hub (Vikey's is called Vikey4), which allows you to open the outer door through a simple action to be done on the Vikey app, a click on the "open door" button on the link that the guest receives after opening.
Thanks to Vikey, a new link and code is automatically generated for each reservation, and your guests will be able to use it as a digital key directly from their cell phones, in total autonomy during their stay to open both the door and the gate.
Is the electronic lock with code a suitable solution for my accommodation?
Yes. Whatever kind of accommodation you have, our smart locks are the perfect solution. We work with hotels, B&Bs, hostels, tourist apartments, villas and rural homes. The important thing is that your goal is to improve your guests' experience, ease the check-in process, and increase your property's profitability.
How the electronic lock with code works
Now that you know that Vikey automatic locks are ideal for your housing, let's look at how the keypad lock technically works.
Vikey smart locks are compatible with European cylinder locks and any type of door you have in your accommodation, including security doors. The Vikey Handle or Smart Lock keypad lock replaces the European door cylinder and is easy to install. It is battery powered, so it does not require electricity to operate but only a wifi network. This smart lock authorizes the door to be opened by a code that is generated and tied to each reservation, maintaining validity only during the customer's stay.
The keypad allows you to open the door without a key, even if the guest does not have internet available, by typing the code sent by the host on the handle keypad, for example in case of internet connection drops.
Through the host application, you can open the door remotely, and schedule these actions automatically, generating an entry and exit history made in your accommodation. You can then ensure that the door to your facility is closed when your guests have left the accommodation.
These smart locks allow you to generate specific access codes, such as for cleaning staff. This way, you are always in control of who accesses your lodging. Code locks apply to both accommodations and hotels. The smart locks installed in each room will be connected to the central Vikey4 device, which will, on its turn, allow the door to be opened using the customer's cell phone, or remotely via the host app.
No condominium authorization is required for installation, because both the central Hub and the locks are installed inside your accommodation facility. Installing these devices both simplifies and modernizes the entry and exit of your guests, while increasing the security of your accommodation.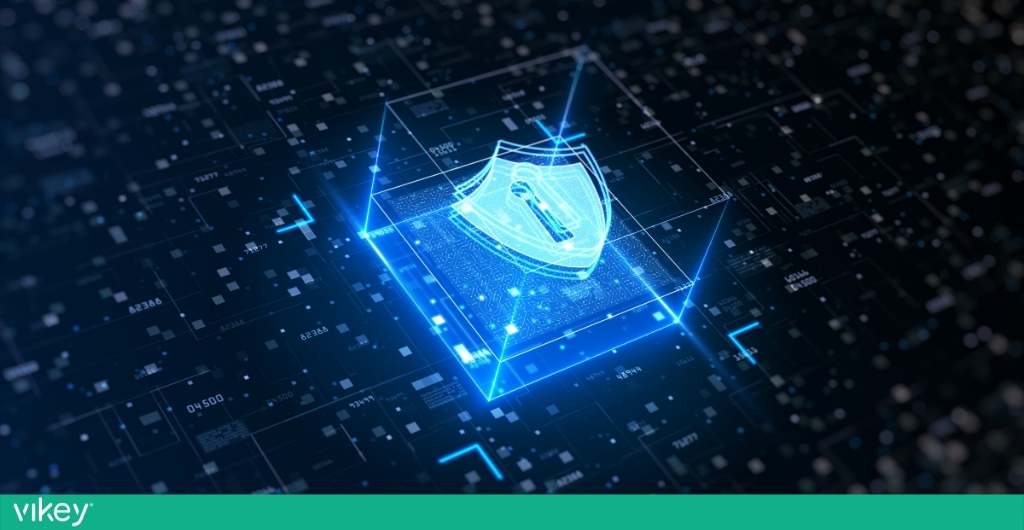 Save time and money by improving check-in efficiency
Flexibility is one of the most important features tourists desire when booking, and can be a deciding point when choosing accommodation options for their destination. The more independence you can offer your guests, the more flexible and positive their stay in your accommodation will be. Remote entry allows travelers to organize their trip according to their needs from day one, arriving at the facility at a time that suits them best, without the need to observe strict check-in times. This advantage will be greatly appreciated by your future clients when they choose the accommodation.
Statistics, data and changing trends also show us that last-minute bookings play an important role in peak season and lodging billing. These bookings represent a very significant number to achieve maximum occupancy and keep you calendar filled with reservations.
You, as the owner or manager of the lodging, will be able to accept all reservations, including last minute reservations and those that arrive outside of the established check-in times, reducing wait times at the front desk and cutting out the need to have a receptionist waiting for guests to arrive.
Choosing electronic locks with keypad and code will improve the security of your lodging, eliminating the risk of stolen or lost keys. Guests also will not be able to make a copy of the key without your authorization. With a digital key, only the people authorized in each reservation will be able to access the accommodation during their stay. At the end of the stay, the key becomes inactive.
Vikey provides you with solutions that are quick and easy to implement
If your accommodation is in a building, our Vikey4 device connects to the intercom in your hotel, b&b, or apartment, allowing both guest and host to open the front door via the virtual key on their phone, without having to download any app. For the apartment or room door, you can choose between Vikey Lock or Vikey Handle (the Vikey lock or Vikey handle), both of which are battery-powered, or alternatively the electric strike that unlocks the door latch via an electric pulse and allows the door to open.
By installing one of these solutions, both you and your guests can open the doors via the web application. Prices for smart code locks can differ depending on the type of your accommodation, depending on the type of solution you choose that best meets your needs.
Invest in technological innovation and increase the profitability of your housing
One of the elements we all value in our daily lives, but especially on our vacations, is time. If you have the opportunity to offer your customers punctuality at check-in, cutting out wait times and time pressure, why not invest in it? You can make money, too, and a lot!
Forget about having staff working exclusively at the front desk, delivering keys, or waiting for visitors. Choose your staff with multifaceted characteristics so that they are more involved in the business and can tackle various tasks. You can invest more time in strategies that grow your business and improve your customers' experience.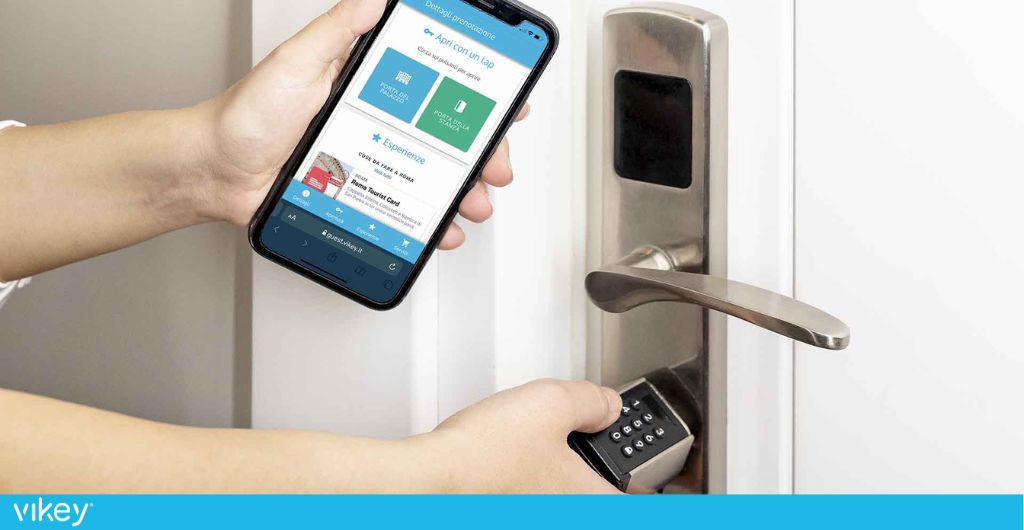 A complete, automated solution that adds value to your accommodation.
Vikey's solutions integrate with your PMS, Booking.com and Airbnb. The reservations you receive are synchronized with your Vikey control panel, while the guest receives a link to access the web-app and complete their part in advance.
On the date of entry, Vikey automatically sends guest data to the appropriate authorities, such as the Lodging Portal, of your location and also calculates the lodging tax. Vikey offers an integrated payment collection gateway to handle payment of both the tourist tax and the reservation amount; and you can also ask your guests to sign the tourist rental contract while they check in online in advance.
To complete the automatic check-in, Vikey will ask your guests to upload a photo of their ID and a selfie. Once they have completed this step, they will be able to access the web-app, numeric code or RFID card to open the room door. Remember that you can also open the door remotely via the host app.
More than locks and numeric keypads. Vikey's home automation
Reduce energy waste and improve your accommodation's security. Vikey is working for you, your guests and the environment. In addition to facilitating check-in processes, Vikey also offers you integrated home automation solutions to improve your guests' comfort and optimize consumption.
Our home automation solutions adjust to all your needs, they are easy to install and quick to setup, implementing automatic rules that allow you to create the ideal environment for your guests. By implementing the smart thermostat, you will be able to plan the temperature so that your guests are always in a pleasant environment, regardless of the outside temperature.
Using smart sensors you will keep control of the heating, air conditioning and lights in the accommodation, which will automatically turn off when guests leave the accommodation. You will save a lot on unnecessary energy consumption by using the universal remote control, which controls, via infrared, multiple electronic devices at the same time, such as lights, TV, audio, etc.
Inside the Vikey4 central device is a noise sensor to manage sound levels, promoting good rest for all your guests and peaceful cohabitation with your neighbors, avoiding problems, complaints about annoying noises or unauthorized parties.
Turn your accommodations into a safe space, respecting the privacy of your guests at all times. The devices have no cameras and audio is not recorded. What we will do is keep you informed in real time of any problems or irregularities that occur during your stay. Through the complete automation of our services, we offer you a centralized and very intuitive solution to automate the management of your lodging and the reception of your guests. With our online check-in, self check-in, web-app, home automation and host app suggestions, you can offer your guests a complete and unique digital experience, motivating them to return and recommend your lodging.