Smart hotel, hotel, or b&b rooms stand out for providing comfort, safety, energy efficiency, and cozy spaces, enhancing the guest experience, making it unique and personalized. Among the main elements of home automation, lighting and -most importantly- heating are the two most influential aspects that affect costs and whose management is most reflected in the guest's positive impression of the whole automation process.
In this article, we will focus on home automation applied to the hotel industry, analyzing:
the new trends in the tourism sector
the advantages of the "home automation" process in your hotel or b&b
the solutions that Vikey offers you
the advantages of our integrated software/hardware system
New trends in accommodation industry
Home automation for hotels and accommodations promotes energy savings and sustainability in your hospitality facility, as well as providing exclusive services to make your customers' stay as comfortable as possible, while also facilitating the work of your employees.
We are facing a full digital transformation, in the tourism industry, in the way we travel and, of course, in the hospitality industry as well. The economic and social situation presents a much higher cost of living, compared to just a few months ago. As a result, maintaining accommodations and any business has become difficult to sustain.
Therefore, it is necessary to have a well-defined strategy with actions you can take today, ensuring a long-term benefit.
Integrating home automation into accommodations is not only a very important part of the innovative trend that smart hotels (or smart hotels) are tracking, but it is also a key part of optimizing the profitability of any hotel business.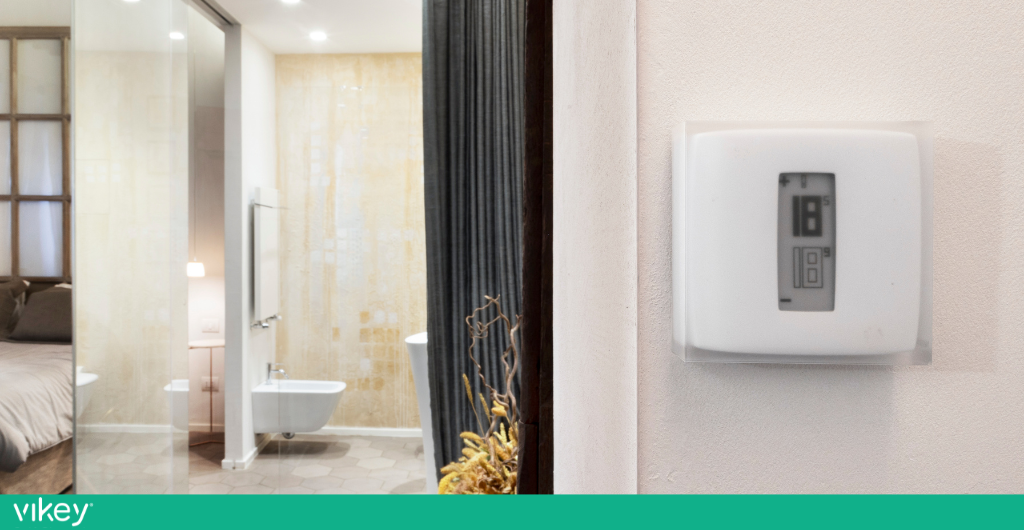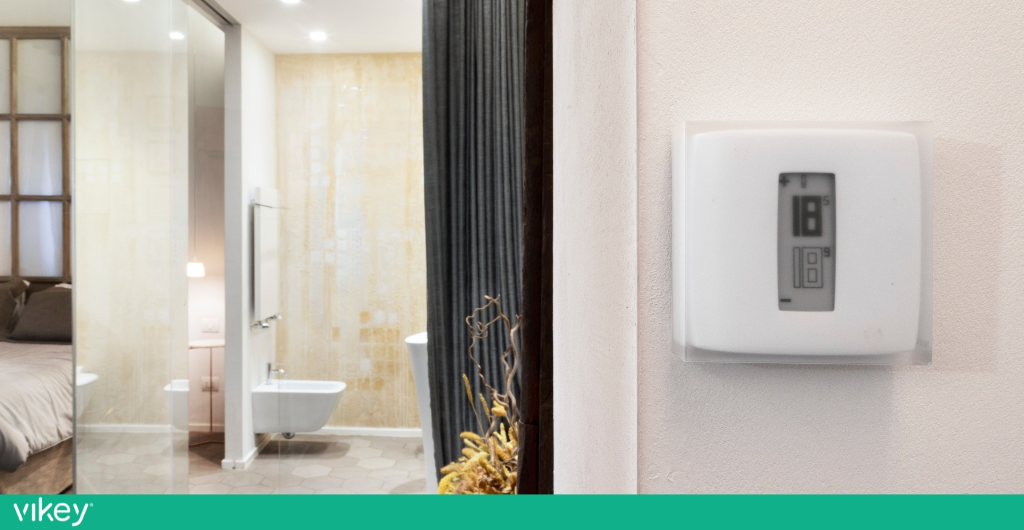 Home automation for your accommodation, a winning investment
By incorporating these systems, you will be able to:
automate all of your customer entry and reception processes
optimize the work of your employees
offer a unique and personalized experience to your guests
lower your lodging maintenance costs by avoiding wasteful air conditioning, heating or lights on when no one is in the room
Stand out from the competitors by offering environmentally friendly services, creating a sustainable space.
Every traveler likes to reach their destination and find harmony, tranquillity, disconnect from worries and feel at home. Therefore, to achieve a great first impression, it is essential to anticipate guests' needs. Home automation systems help you achieve this goal and, as a result, achieve greater customer satisfaction.
Vikey offers you different hardware and software solutions that you can implement in your accommodation with quick and easy installation, remotely managing your guests' reception and check-in, paperwork and consumption. If you know your customers' profile, you can personalize their stay by creating a welcoming environment prepared for them.
Your customers' experience begins when the traveler chooses your accommodation and makes a reservation.
Vikey offers you self check-in solutions and easy paperwork management.
With the implementation of our smart locks, you can schedule automatic messages so that communication with your guests is totally personalized and they receive the information they need to organize their stay at all times.
They will also be able to check in online in advance, before they arrive at their destination. After completing this step, they will receive the access link to your accommodation, which will be valid only during their stay. The guest will be able to open the door by simply clicking a button on your phone.
Your guests will have access to the digital key or access code, from their cell phones, from entry to exit. Vikey will automatically send the required data to the Lodging Portal, and you can also schedule the payment of your stay and lodging tax.
Vikey4 is the central hub that allows you to control all home automation sensors, smart locks on interior doors, and autonomous opening of your lodging's street door. You can set automatic rules to customize every detail of your accommodation, from heating to lighting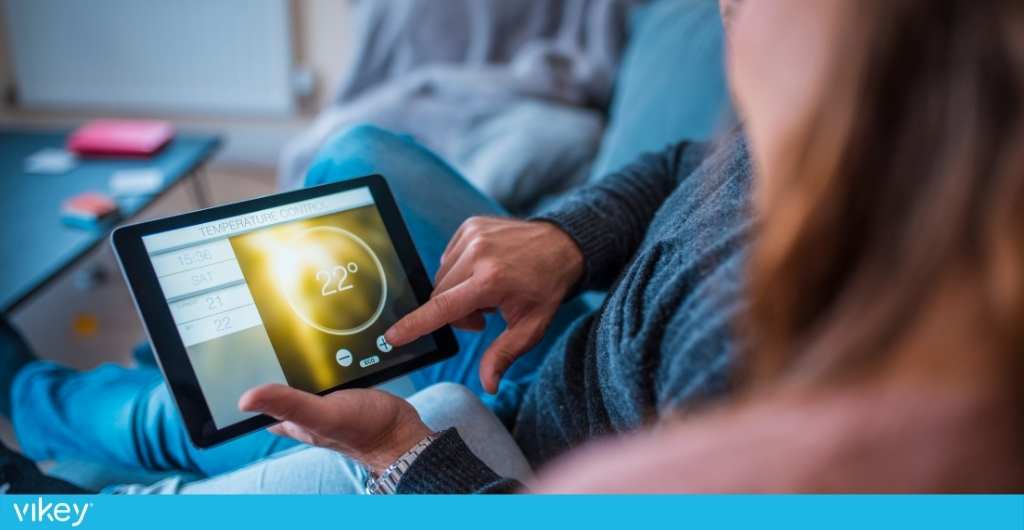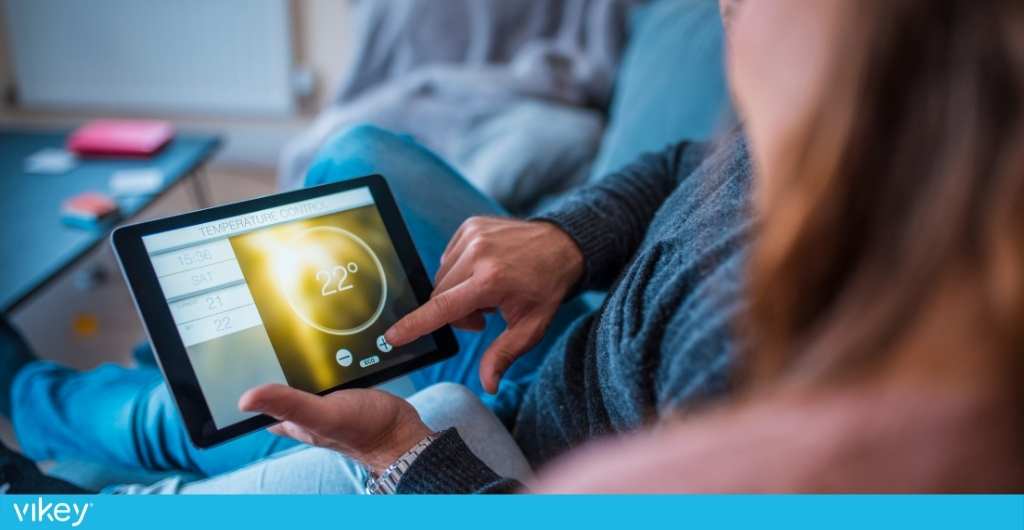 Create a pleasant environment and reduce costs by controlling and regulating energy consumption
With home automation systems for heating, such as the smart thermostat, you can control the room temperature remotely or through automatic rules. Your guests will always find a pleasant atmosphere depending on the season they stay in your accommodation. In addition, with the smart thermostatic valve, you can automate room heating, thanks to Vikey's door and window sensors.
Its function is to detect when windows are open to automatically lower the heating temperature. You can also set up automatic air conditioning shutdown, when your guests leave the accommodation thanks to the motion sensor.
With Vikey home automation you always make sure that the lights are turned off when no one is in the accommodation or that the air conditioning is not on 24 hours a day.
You can complete this solution by installing motion sensors to detect the presence of people in the rooms and automate turning the air conditioning or heating on and off when guests leave the accommodation.
The hotel automation systems for heating and cooling that Vikey offers you can be monitored and managed from the App, through your cell phone. This way you can have energy waste under control while maintaining the comfort and well-being of your guests.
A comfortable and safe experience that guarantees your customers' loyalty
It is very important to us to help you ensure a safe space, so we offer some solutions such as the smoke detection sensor, which in case of smoke, alerts guests via an alarm and you receive a real-time notification on your cell phone.
Protect your accommodation with the water leak sensor that is easy to install on the floor or near taps. In case of a leak, we will notify you immediately, so you can reduce possible damage and excessive unexpected costs.
As you may have noticed, implementing home/hotel automation systems will not only bring obvious benefits to your accommodation, but will also be a direct benefit to your guests, the environment, and the profitability of your business. We invite you to learn about all the solutions Vikey offers and ask for information without any commitment. We can evaluate your facility and your situation and find the solution that best suits your needs.