With the full revival of travel and tourism, more and more hosts are deciding to turn their lodgings into smart lodgings. Offering an autonomous check-in is an easy way to attract new guests to your lodging, and to offer them a convenient and attractive alternative.
The installation of smart locks simplifies your guests' check-in process and allows you, the manager or owner, to remotely manage each of the doors of the lodging and rooms. Nowadays, most of the bookings you receive are managed through OTAs, and one of the main sales channels in the tourism and holiday sector is undoubtedly the Airbnb portal.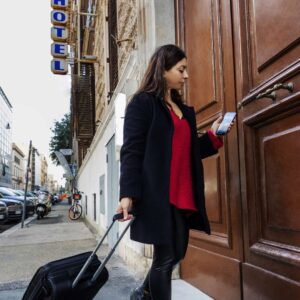 Vikey Smart transforms your lodging and guest experience
Vikey4 is the solution to centralise and automate the opening of the front door of your lodging. The device is connected to the intercom and allows the guest and the host to open the main entrance using a digital key that each of them will have on their mobile phone. Vikey offers smart lock for opening the door of the flat or rooms if you have a hotel, B&B or apartment: Vikey Handle and Vikey Smart Lock, which can be opened with a code, NFC card or via the web-app.
The integration of Vikey and Airbnb, the perfect solution for your lodging.
Once you have installed the Vikey solution that best suits your lodging, you can link your Vikey account with your Airbnb account in a few steps. This integration allows you to immediately generate a link, once you have confirmed the booking with the guest.
Your guest will automatically receive this authorisation link, which will remain active for the duration of their stay. If the guest modifies or cancels the booking, the authorisation will change automatically. When the stay ends, the digital access link to your lodging will be automatically cancelled.
Airbnb allows you to create automatic message templates and schedule their delivery, so you can send check-in and door-opening instructions to your guests. You can also include these steps in your Airbnb listing and guests will be able to view this information before their arrival.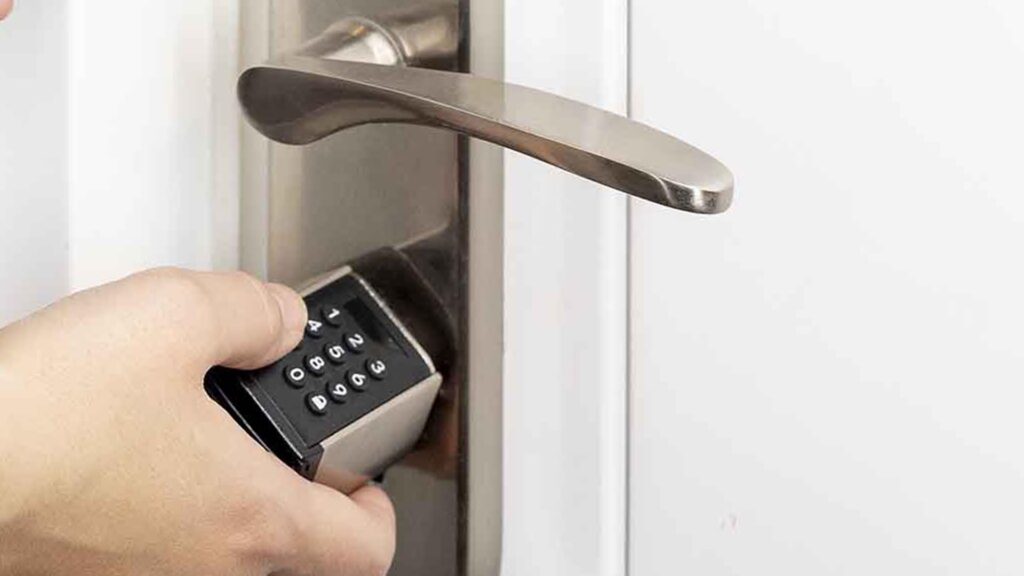 The main advantages of this integration
Key drop-off and pick-up, queues at reception or strict check-in and check-out times are a thing of the past! By choosing this solution, you can offer your guests flexible 24/7 check-in and your lodging can be part of the exclusive Airbnb Plus programme. Link your Vikey Smart account with your Airbnb account, so that your guests receive their access code automatically, once they have booked through the OTA.
In addition, you can generate personalised access codes or links for your cleaning staff, controlling at any time and from anywhere the status of your lodging and the list of people who have had access to the property or rooms.
From your Host app, you can open the entrance doors to the building and rooms by clicking a button or making a call.
Full automation and centralisation of the booking process through the Vikey web-app
Our greatest commitment is to make your day-to-day work easier and also to ensure that your guests have a unique experience in your lodging. To do so, we have created a complete and intuitive tool, transforming check-in, payments and bureaucracy into three simple steps.
Your guests will be able to check in online before their arrival by uploading a photo of their ID card and a selfie of themselves to the Vikey web app, in order to prove their identity.
Through the web application you can also collect the booking and tourist tax automatically; the amount collected will be credited to your bank account within a few hours. This way, you don't have to worry about someone being present to collect these payments, whatever the time of arrival of the guests.
If you want your guests to sign a rental agreement or other documents required for their stay, you can set up the sending of these; your guests will receive them and will be able to sign through the OTP e-signature, which is a unique one-time password generated for the guest to digitally sign the documents.
Vikey and Airbnb allow you to stand out, offering your customers a unique and fully digital experience.