If you're a manager of a hotel, bed and breakfast, or another lodging facility, and you want to eliminate the inconvenience and delays caused by guest key handovers, as well as late-night or off-hour check-in phone calls and guest communication about delays due to traffic, cancelled flights, or other unforeseen circumstances, it's time to consider replacing traditional key locks with electronic locks and enabling self-check-in or automatic check-in. By doing so, you can efficiently manage access control at your hotel and handle the welcoming process remotely, much to the appreciation of your staff and the overall efficiency of your establishment.
Self-check-in is an access control solution for hotels that allows guests to open room doors or unlock entry points (such as main doors, gates, or barriers) using digital and home automation technologies, without requiring your staff to be physically present for key handover.
Automatic self-check-in for hotels and other lodging facilities (such as bed and breakfasts, guesthouses, hostels, vacation rentals, etc.) enables guests to enter the premises independently, saving the host and staff time, resources, and money, especially when they cannot be physically present during guest arrivals.
Smart opening devices can be installed within the property, connecting to electrified locks or the intercom system, and replacing traditional door locks in various rooms of hotels, bed and breakfasts, hostels, farm stays, or other lodging establishments.
Now, let's explore the benefits of Smart Door Locks and contactless check-in for hotel access control, allowing you to open doors and gates without keys.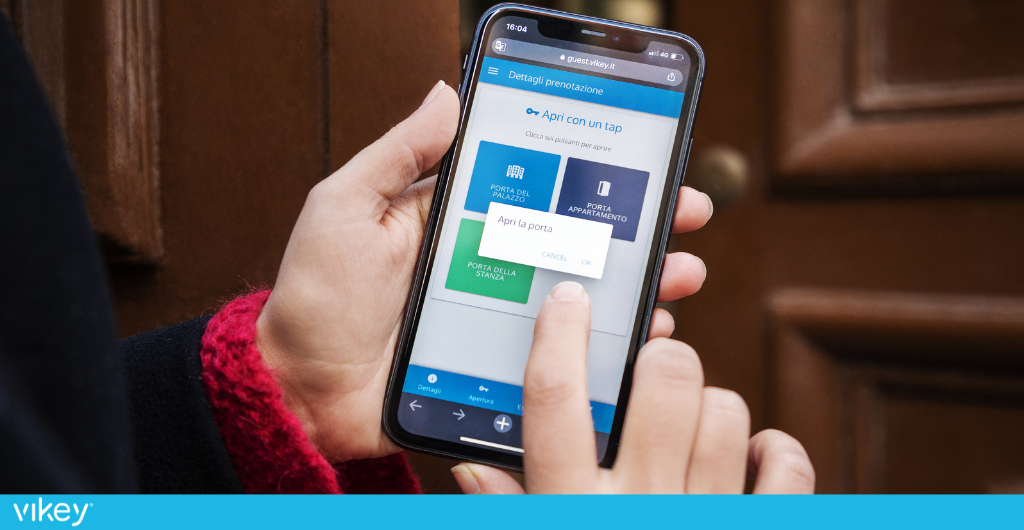 Hotel Access Control System: Entry to the Property
Enable your guests to independently access the property without time limitations. Let's explore how home automation devices for self-check-in can effectively manage remote access control for hotels, bed and breakfasts, and other establishments, allowing for completely digital check-in and check-out processes.
We are aware that bed and breakfasts, vacation rentals, and hostels are often located within a condominium or building that has a main entrance or multiple condominium entrances, such as gates.
Home automation devices for digital access to lodging facilities allow for opening the main entrance or condominium entrances using a central device installed directly on the internal intercom system of the accommodations and connected to Wi-Fi.
Through a smartphone (either the guest's or the manager's), a signal is sent to the device, which triggers the opening of the condominium entrances via the intercom system, without the need for condominium permissions.
By implementing this technology, guests can easily access the property using their smartphones, and property managers can remotely control and manage access to the building, ensuring a smooth and convenient check-in process.

For hotels, the same concept applies, but instead of the condominium entrance, it is applied to the main entrance of the hotel (often already electrified). Battery-powered smart locks are used for the doors of various access points within the hotel, such as common areas, storage rooms, breakfast rooms, business rooms, etc.
For each booking, a unique code is automatically generated, valid only from the check-in date to the check-out date. This code is then transmitted to the smart lock to remotely open both the building's main entrance and the electronic door handles of the hotel rooms. This can be done through the host's app and dashboard or via the guests' smartphones.
Hotel Room access control
Hotel Room Access Control Similar to the main entrances of hotels, apartments, or vacation rentals, the doors of individual hotel rooms can also be opened by guests using their smartphones. In this case, a battery-powered electronic lock or smart lock is used, which is also connected to the central device via Bluetooth.
The smart lock is installed directly in the door, replacing the old European cylinder lock. Additionally, as an extra means of door opening, there is an external numeric keypad, smart cards, or physical emergency unlocking keys.
Regarding the hotel industry, there are a variety of specialized locks available to make analogue doors smart or replace old smart locks. These locks can be integrated with existing home automation systems if necessary. For example, if there is an electric strike plate, often associated with a pocket for smart cards, the central device can be directly connected, allowing the property to retain its initial investment while improving efficiency.
Through Self Check-in, it is possible to autonomously unlock room entrances using electronic locks that operate 24/7, even in the event of internet network failures.
Types of access control opening devices
Here are some types of opening devices that can be connected to the central hub of the automatic check-in system:
Smart Lock and Smart Handle: These devices replace the traditional European cylinder lock on the door.
Electric Strike Plate: The door is electrified, and the latch is released by an electrical impulse, allowing for smart opening or using the original key.
The main hub, connected to the intercom system, supports a wide range of home automation devices that optimize consumption control (such as noise detection, presence detection, temperature control, smoke detection, anti-flooding systems, etc.) and energy efficiency (such as smart remote control for air conditioning, smart plugs, smart thermostats, etc.).
There are different smart opening methods available, including:
Web app: Accessing the opening commands through a smartphone.
RFID Cards: Magnetic cards with RFID technology that can be held near the electronic lock to unlock the door.
SMS: Opening commands for the room door can be sent via SMS.
Unique Codes: Each reservation is assigned a unique code that changes for every booking (unlike key lockboxes).
Remote Opening: The host can also remotely unlock the doors without being physically present.
These options provide flexibility and convenience for both guests and hosts, allowing for efficient and secure access to rooms in a variety of ways. The advantages of hotel access control through electronic locks and the innovative opportunities offered by contactless Self Check-in technologies are numerous:
Digital locks can be installed and configured for any type of accommodation.
The intercom system and electronic locks can be made smart, allowing for smartphone or remote opening of both street entrances and internal doors.
Smartphones can serve as digital keys with electronic locks.
Access codes for rooms and hotels are unique and change for each reservation.
In case of delays or unexpected events, guests can access the property and their rooms without keys.
Being able to enter the property and the room even if arriving late is highly appreciated by guests, eliminating the anxiety and stress of finding the doors closed.
Self Check-in is a service that is increasingly requested during the booking process due to the sense of autonomy and independence it provides to guests, generating a high level of trust in the property.
Besides the smart opening method, physical backup keys can always be used, similar to a traditional lock.
With the elimination of key or magnetic card handover, there is no longer a need to be present at the property upon guests' arrival.
Without physical keys, there is no concern about guests losing them.
There is no need to obtain condominium permits for the implementation of electronic locks, as everything is installed on the property's main entrance and doors. Additionally, the central hub, electronic handles, and electric strike plates will be installed within the accommodation.
It is possible to manage a hotel remotely by controlling access from a distance, thus making the reception digital and automated.
Guest access data can be shared with the entire team.
By monitoring guests' entry and exit times from the property, the host can focus on other hotel activities to provide the best services and an unforgettable vacation.
Virtual hospitality, driven by automation and contactless check-in, represents the future of the hotel industry.
A recent study titled "Hospitality in 2025: Automated, Intelligent… and More Personal," conducted in the spring of 2022 by Oracle Hospitality and Skift, involved 5,266 consumers and 633 hotel managers globally to understand how travelers' expectations are changing and how hotels are adapting to these changes.
The study revealed that 73% of travelers want to use their smartphones to manage check-in, check-out, and their overall hotel experience. This includes functions such as mobile payment, ordering food, and accessing other services, thus eliminating the element of "contact" that has traditionally characterized the Tourism and Hospitality industry.
Travellers now prefer a much more self-service and digitized travel experience.
To meet this new demand, 96% of hoteliers are investing in contactless technology to optimize property management, improve service quality, and increase customer satisfaction.
Self Check-in and contactless technology represent an intelligent, convenient, and secure way for both guests and hoteliers to manage their stay and the property.
Thanks to technology and digitalized hospitality, professionals can work more efficiently, while guests can enjoy maximum comfort through innovative and intelligent services.
Don't miss out on the opportunities offered by Electronic Locks.