Self check-in, the technology that allows guests to remotely access apartments, hotels, b&b's and vacation rentals from their smartphones, is increasingly a necessity for both hosts and property managers, who can simplify their work and save money, and guests who do not want to wait for keys to be delivered. If you offer this service, then you can highlight it on Airbnb and Booking.com by including the self check-in option in the description: find out how to make your listing stand out and increase views and bookings in a few simple steps.
Self check-in: what it is and how it works
ISelf check-in or automatic check-in allows the door to apartments and rooms to be opened via app or by entering a combination, so there is no need for a person on site upon arrival. Hosts and guests can open doors using only their smartphones. Guests like it because they do not have to wait for staff to check in, and property managers and owners like it because they can save time and money.There are several alternatives for offering guests an automated entry system:
Install a key safe (smart lock or lockbox). You will then have to tell the guest the opening code to take the keys. In this case, remember that it is important to change the code often for added security of your accommodation.
Provide remote access via smartphone. Automatic check in systems connect to the home intercom and allow doors to be opened using the smartphone. Guests will only be allowed to enter from the check-in to the check-out time, and then the access will be deactivated. In this way, even before check-in, guests can upload documents online, sign a rental agreement, and can also pay for their stay and tourist tax-thus minimizing the bureaucratic part of hosting.
That's exactly what Vikey does: it offers a device that can be installed inside the house (so no condominium permits are required) and that controls the opening of the front door and any gate. Instead, on the front door, the traditional lock will be replaced with a smart, digital lock that can be opened by smartphone, with a numeric code and NFC card.
How to self-check-in on Booking and Airbnb
If you have an accommodation on the Airbnb and Booking platforms, one way to stand out from other properties is to point out in the listing the option for guests to self-check in: this is in fact an additional service for guests who will be able to count on more privacy, not depend on the host's timing, and arrive at any time.
Remember that the check-in experience is one of the criteria by which your home is rated on Airbnb.

How to add the self-check-in option on Airbnb?
Go to "Your Listings" on Airbnb.com and select a listing
Next to "Guest Resources" click on "Edit"
Below "Directions" click "Add self-check-in"
Select how guests can access your accommodation.
Follow the instructions and add check-in directions
You can find more information on the Airbnb Help Center.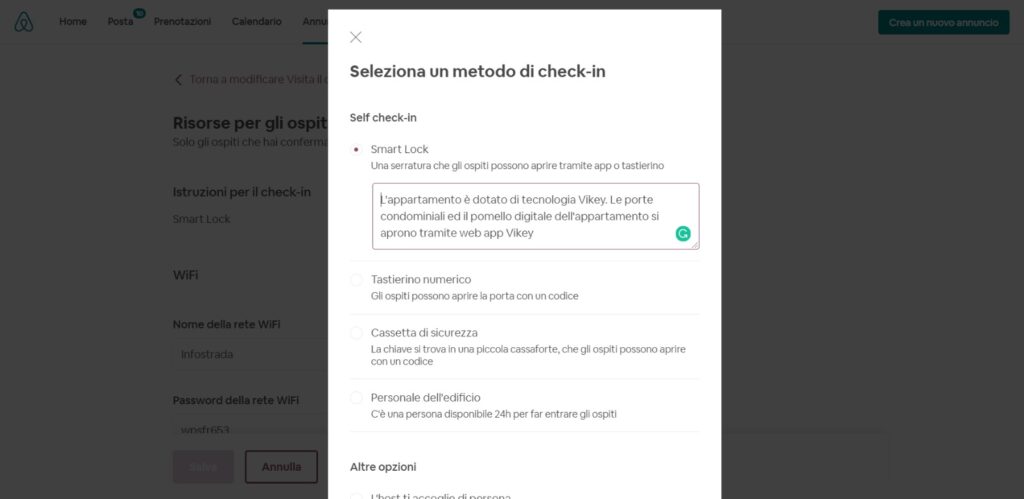 How to add the self-check-in option on Booking?
Open the property
In the top menu click on "property"
Go to the conditions section and edit the 'how to access the property' part according to the way you choose.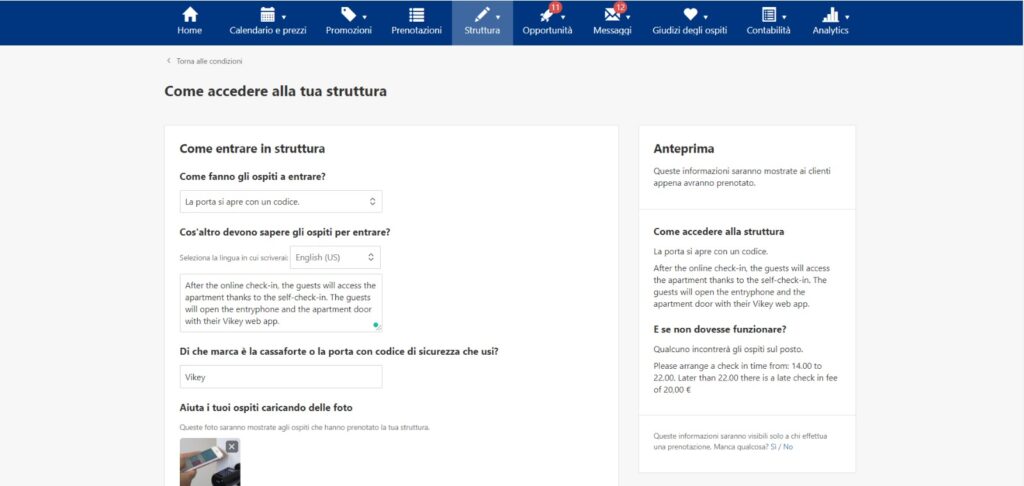 How can you fully automate your apartment?
Vikey allows you to manage online and automated all aspects of check-in for vacation rentals, hotels, B&Bs.
From opening the front door and gate, to paperwork such as automatically sending guest documents to the Lodging Portal, signing the contract, and payments (even tourist tax). In addition, at check-in and throughout the stay, you can offer guests the purchase of extra services and experiences such as visits to museums and other.
Vikey's management portal-accessible from PC and mobile-is integrated with leading PMS, channel managers and OTAs including: Booking.com, Guesty, Octorate, Beds24.com, Smoobu and AvaiBook, Wubook, 5stars and many others.
How do you check in to your property? Do you rely on technology or do you hand over the keys in person? Find out how to automate check-in with Vikey.