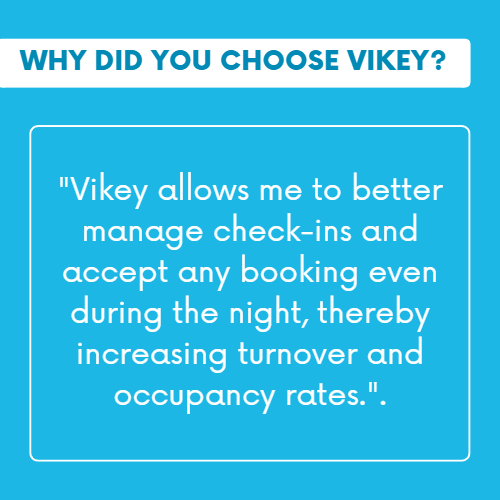 Let's get started. Tell us a bit about yourself. What is the name of your accommodation, where is it located and to what audience is it addressed?
I have 30 properties in Trieste, Como, Ferrara, Turin, Portopalo (Sicily), Bari and Rome. They appeal to different types of people, and now with the latest acquisitions, we are moving into the luxury market.
Tell us more about your accommodation. How long have you been open? What are your strong points?
We've been in the market since pre-pandemic 2019, and even during the pandemic our business was doing well, at almost 80 per cent occupancy thanks to the self-check-in process. We are constantly growing thanks to delegation and automation systems.
Why did you choose Vikey, and how did we help you improve the service offered to your customers?
The service seemed to us to be the most valid on the market, thanks to the integrations and services offered.
As our vision has always been to delegate and not experience any physical check-in check-out problems, the pandemic has rewarded our choice and yours as well.
What benefits did you experience in terms of managing check-in processes?
The time and management of customers. Being able to check in even into the small hours and consequently accept bookings all the time and increase turnover and occupancy rates.
How do you plan to further improve the services offered this season and in 2023?
We aim to offer more and more 5-star services such as visits to Lake Como by boat.