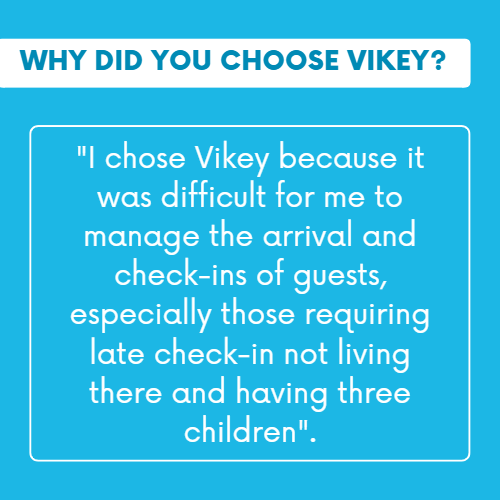 Let's get started. Tell us a bit about yourself. What is the name of your accommodation, where is it located and to what audience is it addressed?
At B&B La casa di Nonno Giulio we mostly welcome couples; we only have a quad room for families. This house on the second floor belongs to Giulio, who is 95 years old, while the rooms are on the ground floor. On your arrival, you will meet me, Viviana, her niece. The rooms are named after her great-grandchildren, or my sons: Michelangelo, Gabriel and Rafael.
Tell us more about your accommodation. How long have you been open? What are your strong points?
The b&b has been open since 2019, and I am pleased to already have regular customers who love our area, our cuisine and the b&b. We have several strengths: (just to name a few I can tell you that) all the rooms are on the ground floor, have independent access, a private bathroom and in addition, the accommodation is very close to the centre, the station and the beach. There is also the possibility of half or full board at our family lido, specialised in serving seafood.
Why did you choose Vikey, and how did we help you improve the service offered to your customers?
Since I don't live nearby and I have three children, it was difficult for me to be there for guests both at check-in and for any problem. Being there was especially challenging not so much in summer as in winter, when guests may arrive late at night. These are the reasons why I chose Vikey.
What benefits did you experience in terms of managing check-in processes?
Certainly, Vikey has helped me in winter, when customers come in alone and I can't be there. To be frank, some people feel intimidated when they receive the email about how to open the door, because it may seem complicated at first sight. But Vikey doesn't just have the link to open the door. Sometimes, I leave the magnetic key available for the customer to feel reassured in case their phone battery runs out. Apart from that, Vikey also helps me with the paperwork; I send the online check-in directly to the police and also to Istat. It only takes one click and you are good with "the law".
How do you plan to further improve the services offered this season and in 2023?
For this season, I came up with a little welcome with some sweets and QR codes to follow me on social media, and also a satisfaction questionnaire!