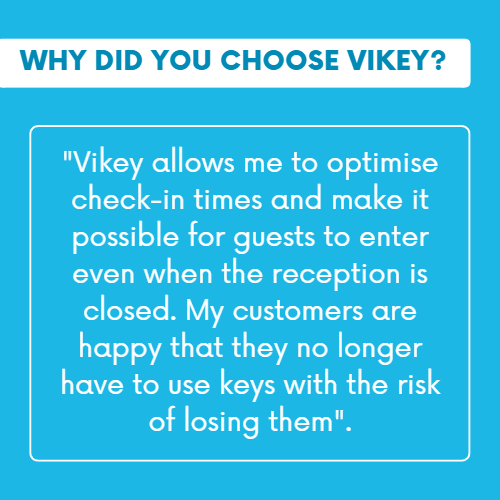 Let's get started. Tell us a bit about yourself. What is the name of your accommodation, where is it located and to what audience is it addressed?
The Vanity Hotel Navona is a boutique hotel with 9 rooms housed in an elegant late 19th-century historical building. We cater mainly to an international clientele, that are mostly young couples.
Tell us more about your accommodation. How long have you been open? What are your strong points?
We opened in December 2021. We believed in the potential of the accommodation and in our own capabilities, despite two years of standstill due to the pandemic and the "advice" on not investing at this time. The hotel is the brainchild of architect Fabio Costantino. Strictly "Made in Italy" products were used for the renovation, combined with wood finishes and refined details, such as the photos in our rooms by photographer Marco Rossi and permanent exhibitions by young local artists.
Why did you choose Vikey, and how did we help you improve the service offered to your customers?
I chose Vikey as I initially had to cut staff costs; a 24-hour reception service would have been an unsustainable cost. With the use of Vikey, I was able to accommodate all check-in requests during reception closing time. My guests are happy they no longer have to use keys (with the risk of losing them) because the only thing they need is their smartphone.
What benefits did you experience in terms of managing check-in processes?
Vikey allows me to optimise check-in times and enables those who prefer a quick check-in to access their room directly without any difficulties and without wasting time.
How do you plan to further improve the services offered this season and in 2023?
For the new year, we plan to focus our investments on improving the energy efficiency of our facility.