Ten advantages of home automation for Hotels, B&Bs and Holiday Homes. How automation helps accommodation facilities work more efficiently, smartly and environmentally friendly.
Home Automation is about technologies aimed at improving the quality of life in the home through the use of information technology and electronics. The goal is to enable elements, equipment and electronic systems to communicate and interact with one another.
When applied to accommodation facilities, home automation can make hotels, B&Bs, and vacation homes more comfortable, safer, and more efficient in terms of both management and energy.
Hotel automation uses the most advanced technological solutions to make the accommodation "smart" and make the stay more pleasant. It also guarantees superior management performance and energy efficiency thanks to automation.
Speaking of home automation in tourism today refers to advanced control systems for lights, access, climate, consumption, and noise levels through a single integrated hardware and software solution to remotely manage every aspect of hospitality.
So, let's find out what the advantages of home automation are for hotels, B&Bs and holiday homes and how it can help them work more efficiently and sustainably.
1. Automation
By setting automatic default settings, consumption and noise levels can be controlled, allowing the host to keep an eye on all of the units from a single platform, wherever they are and whenever they want.
2. Saving Energy
In order to better manage the use of the air conditioning and reduce waste, a domotic system is able to intervene in the use of heating/air conditioning in the room, suspending or limiting it when the guest is absent. In this way, energy saving is assured.
3. Comfort for guests
An intelligent management of heaters and air conditioner or a sensor to monitor temperature, humidity, and air pressure in real time ensures greater comfort for guests.
4. Reduction in management costs
A hotel automation system provides significant savings not only on the management of the facility, but also on lighting and heating costs.
5. Remote control
Monitoring all the devices present in the facility, the various environments and systems in real time and allowing for their supervision from remote locations, allows the host to have total control of their business.
6. Maintenance optimization
Home automation is a very useful tool for the management and maintenance of the rooms because it can report, in real time, the status of the room to the reception, consumption, any malfunctions, and alarms.
7. Monitoring
At any time, the host can see the status of the facility's consumption through graphs and tables from both the cell phone and the computer.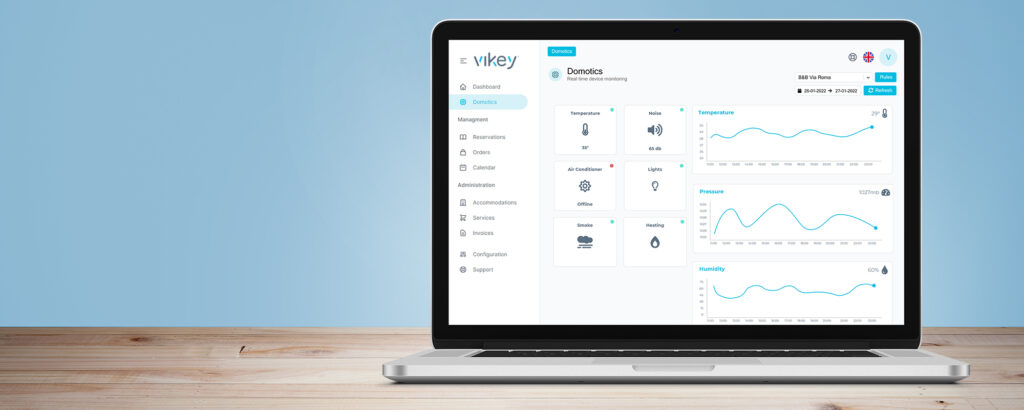 8. Security
The automation of the systems allows reaching very high safety standards that can prevent incidents of fire, flooding or burglary, protecting the guests from every point of view.
9. Innovation
Home automation is now the future of the hotel industry. In fact, the technology behind home automation makes it possible to increase both the management and energy efficiency of the structure through a new business model that is more optimized and environmentally friendly.
10. Value
A facility that invests in technology, efficiency, and sustainability are appreciated especially by guests, who will prefer this added value over your competitors.
Is home automation within reach for all tourist facilities?
Smart thermostat switches and valves, motion sensors, temperature and flood sensors, smoke detectors and door and window openers – regardless of the type of structure, its size or the number of stars.
Automation and the adoption of energy-saving and more efficient management policies bring numerous benefits in every respect, with assured return on investment.
Want to implement home automation solutions in your accommodation facility and save money on utility bills?